It's time for our annual Spring Break travel series! First up is expanding our list of free travel apps to help you save money on your trip.
If you are going anywhere over Spring Break, chances are there is an app that can help you save money. We offered several great free travel apps that allow help cut costs on your travel whether it's dining on the road, staying a hotel, finding free things to do, and filling up on a road trip.
Luckily for travel lovers, there are even more fantastic free apps to make your trip even better than you've planned. So before you head out on your spring break adventure, here are ten more free apps to save you money on your travel adventures.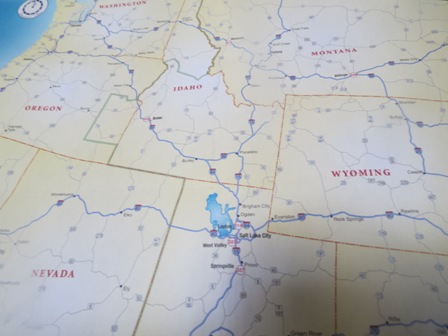 Photo Courtesy: Kristen
10 More Free Travel Apps
Twitter:
You might already have the Twitter app on your phone to follow your friends and organizations and post updates on what you're up to, but it can also save you money on your trip. Follow restaurants, bars, museums, and any other places you would like to visit to hear about last minute deals. Also follow the tourism bureau for the specific city and state you're visiting for free events and tips while traveling. If you're planning on using public transportation, search if you could follow that division to hear about delays or other updates.
Facebook:
Just like Twitter, Facebook isn't just an app that allows you to post your pictures while you're traveling. Like pages for restaurants and other places you're visiting to hear about daily specials. Also, many times if you "like" a place or check-in on Facebook, you can get a good deal. I also like Facebook for travel because you can post a quick question to your friends for recommendations on affordable lodging, a cheap lunch, or other money saving tips. Anytime I've done this, I get back tons of helpful responses.
Your location's tourism website:
I loved visiting Colorado last summer, and I loved that Denver's tourism bureau had a free app just for visiting there. The app is a guide for things to do, events nearby, and finding places to visit that are worth a trip. The app also offers coupons for restaurants, concerts, and theatre tickets. To find out if the city and state you are visiting has an app, search for it on your phone or visit their official website for tourism.
Hotel Coupons:
I discovered Hotel Coupons at a rest stop during a road trip. The little booklet was filled with walk-in rates to use that same day at nearby hotels. Since this book saved me money, I was thrilled to hear there is a free app available. The app finds your location and gives you a list of hotels that are offering deals for same day stays. You can also search by cities you are headed to. I do have to point out that this rate is limited. When I found a great deal, I drove to the hotel, and we found out that they had used up all of their availability for that deal. So be sure to have a back-up plan.
Hotel Tonight:
A similar app to Hotel Coupons is Hotel Tonight. This newer app generates a list of hotels by popular cities or hotels near your current location. These hotels are offering lower prices that are only available that night. These apps make being flexible pay off in the end. But like I mentioned, it's always a good idea to have a back-up plan.
The Weather Channel:
It seems simple enough, but the weather channel app can make sure your travels are a breeze. Download the app to see the current temperature and what the forecast is for the day. This way you'll know how to dress to avoid having to purchase a sweater while you're out and about. You'll also know if you'll need to bring along an umbrella and if walking is an option for your daily activities. If you see it's nice outside with no chance of rain, you can save that cab fare and walk to your destination. You can also get alerts if there is going to be severe weather.
ATM Hunter:
I usually carry very little cash, especially while traveling. But it's always inevitable that you're going to need some cash while traveling for one reason or another. Instead of paying extra for bank fees any time you need to withdraw money on your trip, let the ATM Hunter app find the closest ATM for your card so you don't have to pay an extra fee. Those unnecessary few dollars will quickly add up.
Priority Club:
If you enrolled in the free hotel rewards program for Priority Club hotels, download their free app for a chance to put those points to good use with a free or reduced hotel stay. This will allow you to find hotels wherever you're staying. If you have built up reward points already, you can search by that. It will show you a map of the area you are visiting and the surrounding hotels with how many points you will need to stay there. You can also sort your search results by the particular brand of hotel and the distance from your location. This will be a helpful app for anyone who took advantage of the 80,000 Priority Club points in the $1,720 + 267k Point Credit Card Application Spree last month.
Choice Hotels:
Just like Priority Club, Choice Hotels Rewards Program also offers a free app. If you're a member, this is a great way to find hotels nearby to use your points. And if you just signed up for the The Choice Privileges® Visa® Card and need to satisfy the one night stay to get your bonus points, what better way to start earning points towards future free nights than to find a nearby hotel to stay at.
The local newspapers:
Most local newspapers have an app you can download, like the Chicago Tribune app. This is great to download for places you're living, but it's even better for travel. The app for the city's newspaper you're visiting will alert you to breaking news so you know what's going on around you. There's also a good chance you'll hear of any accidents or problems with public transportation so you'll know to make other arrangements.
What is your favorite travel app? What apps do you download before a trip?
More Travel Tips