Now that spring has arrived, many people are starting to look at booking their summer vacations.
Before you book at that first place that looks good, here are a handful of tips that will help to ensure you have a great trip and also can help you keep your costs in line.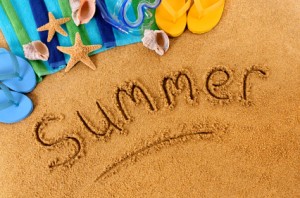 Tips For A Great Summer Vacation
Tips for a Great Summer Vacation
Start Looking Well In Advance.
Now is a great time to start looking for a place to go to this summer. The chances are you will have more options and can score a cheaper plane ticket when you book early. As you wait longer, resorts will start to fill up and you run the risk of having to settle for your second or third choice as well as getting overcharged for a last-minute flight. While you can sometimes score a deal on last minute travel, booking well in advance is usually your best option.
Don't Settle For The First Destination You See.
I've been guilty of this one myself. I see a great destination and then build it up in my head to be amazing. None of the other destinations my wife or I look at compare to this one place. If we end up going to that place, I usually am disappointed, simply because I built it up to be something better in my head than what it really was.

To overcome this, I now just take notes on what I really like about the place, then I keep looking and add to my list. When I am all done looking, then I start comparing destinations to see which ones have the most of what I am looking for. At that point, I begin to narrow down to a few places to pick from.

Do Your Homework.
Once we have the list narrowed down to a handful, say 5 or so places, we head over to Trip Advisor. There we do two things:

Look at pictures. When looking at pictures, we look at the traveler photos. Too many times the resort will doctor up the photos so that the ocean is bluer than in reality. You can see the real resort by looking at traveler photos. Many times they will even post pictures of issues they have, like a small bathroom or the décor of the bedroom from the 1970s. Again, the resort will only post pictures of their best units.
Read reviews. After the pictures, we read the reviews. We try to stay fairly current with the reviews as we feel these are most accurate. We take note to poor customer service or construction going on. We also weigh them all against each other too. If one person mentions an issue with customer service but all the other reviews talk about how helpful they were, we tend to go with the average.

We do both of these things to make sure the place is somewhere we want to stay and also to keep our expectations in line. It's too easy to fall in love with the resorts pictures of the crystal clear water only to have it not be that way when you arrive.

Make A Phone Call.
The next step after narrowing the list down even more is to give the resort a call. We like to see first how attentive their customer service is. If they are no help or are rude on the phone with us, there is a good chance it will be like that at the resort as well.

With that said though, our main goal is to try to negotiate when we call. We mention how much we love their resort from what we've read, but wanted to see if there were any specials going on that might not be listed on the website. During peak travel season, you are going to have a tough time getting a deal, but this one works close to 95% of the time when we do it during off-season. We've gotten a private villa for $1,200 for a week when normally it costs over $3,000.

Even if you can't get a deal on your stay, maybe they can throw in a gift certificate or something for dinner. Anything is better than nothing and we usually walk away with something for free.
Final Thoughts
In the end, you can have a great vacation and keep it within your travel budget by doing a little bit of homework ahead of time. It might not seem like it now, but the more you know about where you are staying and what you can expect will help to make the trip that much better. No one wants to book what they think will be an amazing trip only to find out the resort is under major reconstruction when they arrive. Take the time to do your homework and you will have that much better of a vacation.
More on Travel