Are you planning a vacation for Spring Break? We're kicking off a fun Spring Break travel series this year! First up is understanding and avoiding hotel fees that can easily break any travel budget.
Hidden Hotel Fees
Traveling is on most people's to-do list for certain. And if you're budget conscious, chances are, you have probably discovered some great ways to save on a vacation. I know from experience, that there is nothing worse than overpaying for a hotel room. I have discovered great ways to save on a hotel room throughout my travels. But nothing is worse than thinking you got a fantastic deal, enjoying your evening (or multiple evenings), only to check-out and realize that there was a hidden fee (or hidden fees) and you are paying well over what you thought. If you wisely created a budget for your trip, this can throw the entire thing out of whack. Before you book your next hotel room, double check to see if these hidden fees and costs are not included in the price.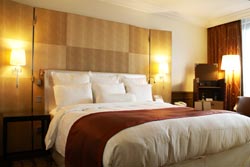 Photo Courtesy: Kristen
Hotel Fees
Parking
You might think you're going to pull in the lot, park your car, and start your trip. But actually, you can be charged to park your car in the lot or a nearby garage. I visited New York this past summer, and I was charged $40 per day to park next door. And I couldn't get to my car without getting a fee. You can be charged $10 to $60 per night to park.
Internet Use
While some hotels offer free wireless internet access, others charge for use. There are hotels that actually charge per minute you are using the internet. Before you use it, ask. If you're charged, chances are you can find a wireless network at a local coffee shop or library.
Spa or Resort Fees
These types of fees can include anything, and pretty much let hotels charge you for whatever they'd like. It can include use of hotel property like a fitness center, spa, pool, hot tub, tennis courts, or shuttle service. Even if you aren't using these things, you can be charged for it.
Missing Items
Of course you are not expecting to walk away with the television and have no repercussions. But if something is missing from the room by accident, you can be charged. For example, if you grabbed a few towels to take them to the hotel pool and left them there, you can be charged for those missing towels.
Service Fee
This fee simply means an extra cost for services like housekeeping, concierge, maintenance staff, bellhop, shuttle service, or doorman.
Using the safe
You may be playing it safe by storing your jewelry, money, or any other valuables inside your room's safe, but you can also be paying for the use.
In-room food and drink
After a hot day of exploring hiking through parts of South Dakota, I was exhausted. I got to the hotel room and grabbed the large bottle of water sitting pretty on the desk. Well, that bottle of water cost me $10. Any food or drink in the room can be extra even though it is sitting in arms reach. Anything in the fridge or mini bar and even the coffee in the coffee maker could be extra. To make matters worse, even if you touch it, you can be charged. Some hotels are equipped with sensors, and if you move that $15 cookie in the fridge, they think you ate it, and you are now the owner of a $15 cookie.
Late check-out
For a long time, I didn't really pay too much attention to the check-out time. Until I realized I had been charged for leaving past 11:00 am the day I checked out. Be aware of the time set for check-out. If you realize you are running behind schedule, call down to the front desk and ask if you can get a free late check out.
Room Service
Most places don't hide it, but room service generally comes along with a big fee. Instead of ordering food to your room, walk down and order.
Breakfast
So many hotels include free breakfast, you might forget that it is not included everywhere. If you didn't include breakfast in your vacation budget, this could negatively impact your funds. Ask the front desk for recommendations. Anytime I've asked for recommendations for restaurants, they've handed me coupons to nearby cafes and restaurants serving breakfast.
Cancellation
Things happen, and you have to cancel your stay at a hotel. If not being able to go on your trip isn't bad enough, what about paying for a hotel stay you didn't even use? Anytime you make a reservation at a hotel, know what the cancellation policy is. It can be nonrefundable from the time you book, two weeks in advance, or 24 hour notice. If you're planning a big trip, consider purchasing travel insurance that could possible cover you if you end up needing to cancel.
How to Avoid These Fees
Read the fine print. Even if you're booking on another site, like Travelocity.com, spend a good amount of time on the actual hotel's website to see what is included and not included.
Call customer service, and ask if there are any unclear fees. Besides informing you of any other costs, this will give you a good argument if you end up with something extra on your bill.
Read hotel reviews. TripAdvisor, Hotels.com, and Yelp are filled with hundreds of reviews for the hotel you're staying at. Someone getting smacked with ridiculous fees is definitely motivation for them to write a negative review about it.
Look at your receipt before you check out. Don't just assume that all is fine. Be sure to fully understand the receipt and cost. This way if there is any dispute, you can handle it immediately.
Keep your receipt. This will help if you notice when you get home that your charge is different than the receipt.
Pay with a credit card instead of cash. This will make it easier to dispute any charges if you feel you were wrongly charged. In addition, you'll also earn rewards if you use a hotel rewards credit card.
Have you ever had hidden fees from a hotel? How do you avoid these fees or handle it when you do get billed for something unexpected?
More Ways to Save on Travel