We continue our Spring Break travel series this week with ways to find car rental deals! If you are planning a to rent a car for your vacation make sure you're getting the best deal!
Car Rental Savings
When I was making my travel budget for the year, I decided it would be a better idea for me to rent a car instead of using my own for a road trip to save. So of course, while trying to find ways to save on my travels, I scoured for ways to save on renting a car. If you go in blindly, you can really end up spending a lot more money than you may think on renting a car.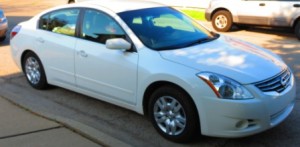 Photo Courtesy: Kristen
How to Find Car Rental Deals
Shop around.
There are so many rental car companies, be sure to shop around to compare prices for which one is currently giving the best rate in addition to comparing rentals on travel sites like Travelocity and Expedia. Besides doing this online, call the company to ask. Sometimes there can be different pricing available.
Be flexible with your pick up and drop off time.
Sometimes if you are willing to pick up the car a little earlier or drop it off a little earlier, it will save you money. This is also true for days of the week. Depending on when the cars seem to be more in demand for that week, they may be charging more. If you can be flexible, try to compare if switching it up a little will save you.
Pick up the car at another location.
For my road trip, I was surprised to realize that the car rental would cost much less at the same company but a location five to ten miles away. If you can pick it up at another location, compare the prices.
Pick a smaller car.
Generally, the smaller cars are going to save you more. The size, make and model, and year of the car can all factor into the price. Opting for an older car can save you a lot on the total bill.
Pick a car with the best gas mileage.
Many car rental companies' websites will list the gas mileage of each car. If not, visit the car's website to find out the estimated gas mileage. Keep in mind if you're going to be doing highway driving or city driving. When you're trying to save money on gas, it is the best choice to keep this in mind.
Use a coupon code.
Search for car rental coupons for the car rental before checking out. Sometimes the company you work for or the college you have graduated from may offer a coupon rate. Check your alumni's and company's website to see if this is true.
Sign up for reward points with a hotel.
Most hotel chains have free membership rewards programs. In these programs, you earn points by staying at hotels. You can also earn points by shopping through one of their partner companies, and many programs are partners with car rental companies. Every dollar you spend on your car rental is a point. Points add up to free nights at hotels.
Check to see if you already have insurance.
Car rental companies strongly urge you to purchase insurance. From five to fifteen dollars per day, you can be covered if you get into an accident, if the car gets stolen, or any other damage occurs to the car. But, there's a good chance you're already covered. First, you can be covered on your own car insurance policy. Call your company to see if you're covered while you're driving other cars that you do not own. I switched for simply $4 per month which was a lot better than buying insurance. Second, you could also be insured by the credit card company you are paying for the car rental with. Call your credit card company to ask if you are insured.
Opt out of the toll-way payment.
A lot of the cars at rental facilities come equipped with an automatic toll box connected to windshield near the rear-view mirror. If you choose to activate this box, you can be charged a convenience fee per day plus the cost of any tolls you go through. For me, the convenience fee was $5 per day plus the cost of tolls. It's worth it to simply pay the tolls instead of paying the fee.
Skip the extras.
While you're checking out, you may be asked several optional services such as satellite radio, GPS, car seats for children, or the option of the company filling up gas for you upon your return. Of course if you need a car seat or GPS then it is a good purchase, but be sure you actually need these items before adding them on.
Know exactly what you're paying for.
Before you check out or sign a contact, go through the bill to see exactly what the total cost is made up of. Sometimes insurance, gas refill, and those extras were already added in. Just like the hidden hotel fees, go through and look over all the fees so you're not paying for anything you will not be using.
Inspect the car thoroughly before pulling away.
You finally get into your car after a long flight or in anticipating a fun road trip, and all you probably want to do is pull away. But before you do, inspect the inside and outside of the car thoroughly. Note any scratches or damages to inside or outside as well as stains or any other thing you could potentially be charged for upon return. Talk to the attendant, and ask that they note these things if they haven't already so they are aware you did not do this and will not get charged.
Fill the car up with gas prior to returning.
Prior to returning the car, be sure the gas tank is filled up or to the point at which you agreed upon in your contract. They will charge you a fee of filling it up plus the price of gas. Usually it pays to fill up at a location other than right near the rental company. Many times, prices for gas are higher near the companies since it's a popular place to fill up.
How do you save money on renting a car? What are the best companies to use or types of cars to rent?
More Ways to Save on Travel