Camping is more than a cheap way to sleep at night- it's an experience. Whether you're looking for an adventure, something different, or a way to save on a vacation, camping is the way to go. I have to admit that I wasn't always an avid camper. But while trying to find ways to save money on lodging, I discovered how versatile camping really is. Many camp grounds are modern with numerous amenities, and all campgrounds offer different activities and something new to explore.
If you have children, it's a great way to teach them about nature. They'll also get a lesson in responsibility since there is some work that goes into camping. The experience is perfect for families looking to spend quality time since there aren't many distractions.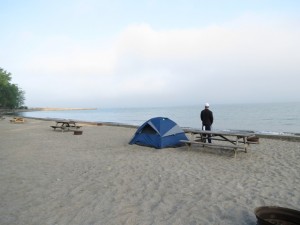 source: Kristen
If you're looking to embrace the outdoors, bond with your friends or family, and of course, save money, give camping a try. But before you head out, you'll need to know where to go and what to pack.
Where to Go
Whether you have a specific area you're headed to or you just want to take a nearby getaway, there is a camping ground near you. Here are three websites that are good sources for finding the camping area that is perfect for you:
The U.S. National Park website allows you to locate state parks and which allow camping state by state. This is where you'll see only public camping grounds since they are owned by the government.
The Great Outdoor Recreations Pages (GORP) is a perfect site if you have specific activities in mind for your camping trip. Whether you want to fish, bike, surf, backpack, or something else, GORP will find a camping site that's right for you. This search generates both public and private camping grounds. Private camping grounds are owned by a company.
Go Camping America lets you search by the type of site you'd like such as a tent or if you'll need an electricity hook-up. You can also look by the amenities available like pets welcome, internet access, and a laundry facility on site. Each park lists the surrounding tourist attractions to make trip planning a breeze.
What to Pack
Packing for a camping trip is essential to the success of the trip. In most cases, you won't have a store a few minutes away you can just grab something you forgot. A camping list also greatly varies on where and when you're going and what type of trip you're looking for so my list below is just an outline. Here is a list of what to pack and what to consider while packing.
Tent and Sleeping Supplies
Unless you're renting a camper, the tent is a vital part of your camping trip. There are as many different types and features and prices ranges of tents as there are places to camp. Tent shopping can be a bit overwhelming, but here are a few questions to ask yourself before your purchase:
How many people are sleeping in the tent?  There are tents built for one person up to a whole group of people. Decide how many people will be sleeping in the tent and if you need to account for extra room.
How durable do you need it? If you're not anticipating harsh weather, you can choose basic nylon tent. If you'll use your tent for winter, rainy weather, or in high altitudes, you'll need a tent to meet those needs.
How much should it weigh? If you're planning on hiking and backpacking, you'll need a more light weight tent. There are tents specifically designed for carrying to make your journey easier.
Besides the tent, here are other sleeping supplies you'll need:
Tarp Note: Putting a tarp underneath your tent is a good idea if you're anticipating rainy weather.
Sleeping Bag and blankets
Pillows
Cooking Supplies
Planning your meals ahead and packing smart are great ways to save money on food for your trip. Before you pack your camping gear, see what is available at your camping grounds. There's a good chance they'll have grills and fire pits you can use at your convenience. Some may even have a clubhouse with a stove or snack shop nearby. Here's a list of what you may need:
Charcoal or Gas Grill
Charcoal or gas, depending on your grill
Matches or lighter
Camping Stove
Pots and pans to cook
Cooler to store food
Smaller cooler that's more portable for carrying drinks with you
Grilling Utensils: Spatula, Tongs
Eating Utensils: Cups, Plates, Forks, Spoons
Bottled Water
Food
Clean-up: Kitchen towels, Dish Soap
Depending on your meals, you may need: Foil, Cooking Spray, Seasonings
Clothing
When deciding what clothes you'll pack, check the weather reports as close as possible to your trip. This is a good idea with all vacations, but it's vital with camping.
It's a good idea to pack clothes that are:
Comfortable, loose fitting, and good for activities
Can easily be layered so adjust to varying temperature throughout the day
Can block you from the sun if the sun becomes too harsh
Can handle different elements such as rain or wind
First Aid and Safety
What you need to know about first aid and safety depends a lot on where you're going. Research what type of wild life you'll be near and what you need to do to protect yourself from it. It's also important to know what types of insects and plants are harmful and prominent in your area. Certain areas may be more susceptible to ticks and other insects that can be potentially dangerous. Here's a general list of what to take with you:
Bug Spray
Medications
Band-Aids
First-aid kit including tweezers,
Burn ointment
Sunscreen
Flashlight with extra Batteries
Toilet Paper
And of course you'll want to pack fun supplies as well. Find out what amenities the campground has so you can pack accordingly. If fishing is available, you may want a pole and other fishing gear. If boating is an option, pack a life jacket. With a swimming pool, you may want to bring a raft or other pool toys. Tennis courts, basketball courts, and baseball fields also will determine what you pack. Bring outdoor toys such as Frisbees and balls.