My husband and I recently returned from a cruise to Alaska. It was simply breathtaking. I now know that the gorgeous color of my cat's eyes we previously were unable to define is, in fact, glacier-ice blue. Our taste buds were delighted each night to seascapes, mountains, and the occasional whale spout. We even stumbled upon a field of no less than 30 bald eagles hanging out!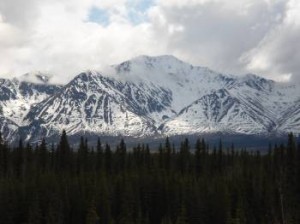 source: Amanda
Cruising was certainly a departure from our normal style of travel. Typically we choose a place and then explore it each day according to what we want to do and how we are feeling. There might be two or three things on a premade mental list of what we would like to do at a location, but the rest just sort of happens. This has worked out really well for us. One day while in Japan, I got on an unknown train and randomly chose a location to another station to explore. After walking around for an hour or so I had stumbled upon a gorgeous garden, koi fish, a flea market, and then an Edo-period building. We've found favorite katsudon restaurants, coffee shops, temples, soup stands, and castles this way.
With cruising, there is much more planning involved. Things are timed, ports are known in advance, excursions are booked (optional), and there are a lot more occasions for spending (in my opinion). Though with a cruise, you can certainly cover a lot of ground in a very comfortable fashion.
I am sure that the seasoned cruisers know the other costs involved with a cruise besides the ticket price, and some of you probably suspected as much. But I thought it would be a great idea to go over the cruise extra costs for future cruisers who, like me, are doing it for their first time.
Transportation to the Port
Of course I knew this going in, but depending on your location you might be looking at substantial airfare costs, even if you buy on the best day to buy airline tickets, just to get to the port of embarkation. Also, you might need to spend the night (and pay for a hotel) depending on the time of day your cruise departs and the flights that you can get.
Luggage Fees
If you are travelers, then you certainly know this by now. Most airlines charge for luggage fees. Even though we were technically flying international (into Vancouver), our flight was treated as a stateside destination and we had to pay $25 per bag ($50 there, and $50 on the way home). Fortunately, there were no additional fees for our luggage on the cruise.
Clothing and Accessories for a Myriad of Weather and Circumstances
We covered a lot of territory with our cruise and land extension. Some areas (Ketchikan) receive over 300 days of rain while others were cold. The temperatures we were exposed to went from 30-70 Fahrenheit. We faced wind, rain, and a lot of sunshine. Paul and I also signed up for a few excursions that included snorkeling, hiking, bike riding, and being out on a boat. The cruise also presented wardrobe challenges with formal nights (think cocktail gown/ball gown), a fitness center, hot tubs, etc. Fortunately, I am still able to fit into my high school dance gowns. I saved a beautiful sparkle gown (which fit right in) for one of the formal nights, and another gown for the second night. We did end up purchasing two ponchos (which we also ended up needing). Mainly, we made sure to pack many layers of clothing for all of the temperature fluctuations and a lot of socks.  
Tips for Hard Working Staff
The staff on our ship worked very hard to ensure that we were all given anything and everything we wanted. Our rooms were cleaned twice a day, the bed made once in the morning and made in a different way for the evening. We were met with adorable towel animals and chocolates each night after getting back from dinner. The service in the restaurants was superb. And there were probably hundreds of staff I never even saw that worked just as hard for things to move along so seamlessly.
On our particular ship we were billed $11.50 per day per person ($23.00 per day in total) for tips. Honestly, I questioned if we should have tipped even more. This was based on the rooms being cleaned, and the great service we received at a gourmet restaurant several times per day (with several courses and waiters for each meal).
Beverage (Alcoholic and some Non-Alcoholic) Money
Alcoholic drinks are not covered in the "all-inclusive" cruise; nor are sodas. And be prepared to pay $6.00-$12.00 per alcoholic beverage. I personally enjoyed a strawberry basil belissimo, and a mango margarita while onboard. Delicious! The rest of the time I had water and a juice or two (for breakfast juices were not extra). Sodas were between $2.00-$3.00 each.
Internet Usage
Paul and I chose a digital detox instead of paying to use the internet. Isn't that what vacation is for anyway? He works in IT and I am a blogger, so it was sorely needed. On our ship you would pay $100.00 for 250 minutes, or $55.00 for 100 minutes. If you chose pay as you go, the cost was $0.75 per minute.
Excursions
I didn't understand what excursions were and how they fit into the ports until we pulled into our first port: Ketchikan, Alaska. We signed up for several—snorkeling, touring a salmon hatchery, seeing Mendenhall Glacier, and taking a bike ride through a coastal temperate rain forest—but didn't know what to expect. Each turned out to be truly magnificent in its own right, and we really got a better feel for the port and for Alaska. Did I mention it was also nice to stretch our legs and get a little brisk exercise in after eating all of that gourmet food?  
If you don't wish to purchase excursions ahead of time, at each port there were numerous companies just waiting for you to sign up for a tour, bike ride, canoe, salmon adventure, etc. I would suspect that the prices are lower than signing up through the ship.
Food for the Land Portion of your Cruise
Our cruise had a three-day extension to take a train up to Denali, spend the night, and then spend a night in Fairbanks (we also spent the night in Anchorage). What I did not realize was that food was not included in this extension. Our hotel and transportation costs were, but we were on our own for food. Let me tell you: it is hard coming off of a gourmet three-meal-per-day, eat-as-much-as-you'd-like to pay for your own food again!  
Potential Fuel Costs
The cruise ship has the right to increase the fare at any time due to fuel costs leading up to the Initial Departure as well as to require the payment of the additional fare prior to the Initial Departure. Thankfully, this did not happen on our cruise. Also, it should be noted that at least with our cruise, the contract states that you have the right to cancel your cruise and receive the "Refund Amount" (lots of fine print there) within seven days of being notified of additional fare.
Have you cruised before? Where did you go? Any fees you strongly remember?
Ways to Save on Travel