Saving money and taking a vacation are usually two activities that don't go together. But just because you're watching your money, doesn't mean you have to miss out on a relaxing getaway, an exciting adventure, or whatever else your travel dreams are. As a travel lover and someone on a tight budget, I've learned a few painless ways to save on any vacation. Here are 11 things you can try to save on your next travel experience.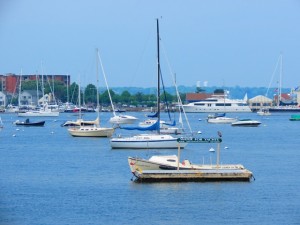 source: Kristen
Ways to Save on Vacation
Travel during an off-time. Whether it's during the week versus a weekend or during summer instead of winter, traveling at a less popular time will most likely score you better rates on accommodations and airfare. For example, this summer, popular ski resorts will be much cheaper than in winter. You might not be able to ski, but there's plenty other fun activities for a fraction of the cost.
Sign up for every reward program imaginable. Hotel and motel chains, car rental companies, restaurant chains, stores, and even campgrounds offer reward programs. Most programs are free to sign up and only take a few minutes. Once you sign up, you'll get points for the money you spend which will eventually score you free nights over time.
Find the deals. There are deals everywhere if you just take the time to look. Sites like Expedia, Groupon, and Living Social all offer discounts on getaways. Rest areas and welcome centers have coupons for surrounding hotels, restaurants, and attractions. On my recent road trip, I discovered Hotelcoupons.com, a site that offers great deals on hotels.
Be flexible. If you're willing to bend on a few things, you'll be able to save in the long run. If a tropical getaway is on your agenda, consider Aruba instead of Hawaii to save a great deal of money. If airfare for a destination is too high, look into surrounding airports and rent a car to get there instead.
Research activities before you pay. Know what you're really getting on a guided tour and other tourist attractions. When I traveled to Boston, we almost paid for a walking tour of the Freedom Trail. After a little research, I found that it is easy to navigate without a guide and there are plenty of maps and downloadable guides we got right onto our phones for no cost at all.
Walk around. Renting a car, cabs, and public transportation are great, but many times you can just walk around an area to get from one place to another for free. Before you start, you'll want to know if there are certain areas that are unsafe, have an up to date map, be aware of the weather, and have comfortable shoes. With walking, you don't have to worry about gas, parking, and other fees. And it's the best way to discover an area.
Go out to breakfast or lunch instead of dinner. Restaurants are generally more expensive at dinner so opt for breakfast or lunch instead. If you're willing to eat at a less popular time, check to see what local restaurants offer happy hour specials. Bars and pubs offer an affordable late night menu many times as well.
Look for free activities. Chances are, there are many free activities and sights to see wherever you're planning to go. Check to see free days at local museums and zoos. Look into scenic parks, beaches, and trails for free entertainment. Local libraries and park districts often offer free events like concerts, movies, and classes. Check to see if there are any festivals going on as well.
Stay somewhere with a kitchen. Instead of a basic hotel room, stay in a condo, rented home, or a hotel suite with a kitchen. The ability to cook a few meals on your vacation will save you money on groceries. Even being able to keep bottled water, snacks, and other drinks on hand is a great money saver.
Skip souvenirs. Everyone wants to have a great memory of their trip, but skip the t-shirt or poorly made knick-knack. Instead, take tons of photos. When you get home from your trip, you can frame them, make a slideshow, put them in a scrapbook, or whatever you'd like. Chances are that your sparkly Vegas keychain will get lost in a few years, but the photos you have with your family and friends will not.
Stay on a budget. The easiest way to not come home from a trip completely broke is to stay on a budget. Don't fall into the trap of feeling like you can spend whatever you want because it's a vacation. Before you go, establish a budget for lodging, transportation, food, and entertainment. If you stick to the budget, you won't be disappointed.
More Ways to Save on Vacation