Our Spring Break travel series continues! Have you considered a hostel? What is it and why is it so cheap?
If you're watching your pennies but want to get out and see the world, hostels could make it a reality. Travel being expensive and hostels being unsafe are just a few of the common travel and money myths that people often think of. But before you head out, here are some things you should know about staying in a hostel and how to keep safe while having a memorable time.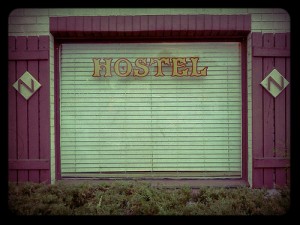 What is a hostel?
The definition of a hostel can vary tremendously depending on each individual case. Essentially, it is a more affordable option for accommodations while traveling. Being so cheap, makes them ideal for those of us traveling on a budget. Hostels often have multiple beds per room, which means you would be sharing a room with a stranger. You would also be sharing a bathroom. However, some hostels offer an option for a private room or private bathroom.
While sharing a room with a complete stranger may not be ideal, costs as low as $10 per night in some countries can sweeten the deal for the budget conscious traveler.
Why is it so cheap?
Hostels are so much cheaper and an inexpensive hotel alternative because in most cases you are sharing a room and/or bathroom. Many hostels are so inexpensive because it is more bare essential type accommodations. Which means, you may not find housekeeping, towels, or the customer service you would get in a hotel.
Hostel Resources
Hostelworld. One of the most trusted websites for staying a hostel is Hostelworld.com. Search for hostels by your destination, read a description, check out any awards the hostel has received, and read reviews from travelers who have stayed there. They'll also inform you of things you should note, like if check-in time needs to be confirmed, when check out is, and what is required to check-in, such as a proper tourist visa. Read the hostel's policy such as whether or not there is a curfew, if it is child-friendly, if credit cards are accepted or if it is cash only, if pets are welcome, and whether or not it is non-smoking. You'll also be able to check out what type of features the hostel has such as security, if breakfast is included, internet access, a kitchen, laundry facilities, a safe deposit box, housekeeping, safe storage for luggage, and even things like a BBQ, a book exchange, free city maps, and board games. They say that the booking is 100% confirmed.
Hostelz. Check out Hostelz.com to compare prices, read reviews, and get more information on hostels. The descriptions have great detail on the hostel including the cleanliness, common areas, and will even detail the surrounding area and general location. You can also read reviews from those who have stayed there first hand, check out photos, and see how this particular hostel rated on other hostel review websites.
Tips For Staying In a Hostel
Things to know about staying in a hostel:
You will be sharing a room with other travelers.
Some hostels have a curfew, and the door is then locked after this set time.
Just like a hotel, many hostels require an advanced reservation. And as you do when booking a hotel reservation, understand the reservation policy. If you have to cancel your reservation, you may be charged a fee just like staying in a hotel.
Some hostels do not have sheets or towels, and you will need to bring your own or pay for them.
Is staying in a hostel safe?
Many people associate hostels with a lack of safety. The truth is, an instance of questionable safety can happen anywhere. Check out the hostel safety tips below.
Hostel safety tips:
Read reviews of hostels to learn what a hostel's safety policy is. Do they require identification to enter? Is there security? Is there check-in 24 hours? Check-in 24 hours means that there should be someone there to watch the door.
While you're researching the hostel, look into if there has been instances of crime or other unsafe activity.
Choose a hostel that is reputable with excellent security.
Choose a hostel that is well-managed. Opt for a hostel room that can be locked.
When choosing a location of a hostel, stay in a safe area. The more unsafe the area surrounding the hostel is, the greater the chance of crime or risk in that hostel.
If possible, don't travel alone.
If you are a woman traveling with only your female friends, you can choose a female-only dorm and possibly even a female-only floor.
Don't leave your belonging out. Instead, choose to lock them in a locker and keep your valuables with you at all times.
If you are locking your belongings up, double check the quality of the lock.
If you are suspicious of the people in your room or feel uncomfortable, always trust your instinct.
If you'll be staying in a hostel, be sure to lock your backpack.
Always keep extreme valuables, like a passport, your money, and your credit card, with you at all times.
Since you are sharing a shower, be sure to bring flip flops or some type of shower shoe to protect against bacteria.
Many of the same rules that apply for safe travel, apply for staying in a hostel. Leave expensive jewelry and other non-essential valuables at home. Carry a mix of a credit cards and cash in case one gets stolen. Don't flash around any cash or your credit card. Be social, but continue to be cautious of every person you meet. Make copies of documents before your trip, such as your license, credit cards, birth certificate, passport, visa, and keep them in safe place.
If you are planning on staying in a hostel abroad, thoroughly read the U.S. Department of State's advice on having a safe trip abroad.
If you have stayed in a hostel, what was your experience like? Would you recommend it? If you haven't stayed in a hostel, would you do so to save money?
More Travel Tips