Studying abroad can be a wonderful experience for any college student. And while there are many advantages and disadvantages of studying abroad, a common denominator is that it could be quite costly. So before you set out for the once in a lifetime adventure, learn how you can save money first. Here are some tips for saving money while studying abroad.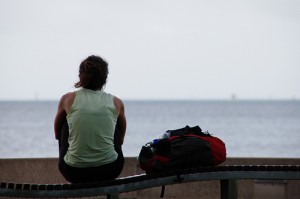 Photo Credit: jcoterhals
How to Save Money While Studying Abroad
Be sure any courses count towards a degree.
Double check that the courses you are taking abroad will count towards your degree back home. You will want to confirm this with your college in America. Unfortunately, sometimes when a student returns, they learn that the course does not transfer over, and they need to spend more money on additional classes towards their graduation requirements.
Apply for scholarships.
Every year, thousands of dollars of unused scholarship money does not get used up and goes to waste. And there are many of these scholarships geared specifically towards studying abroad. If your college has a study abroad office, stop in to ask about scholarships or if they can recommend places to look for scholarships. Look for scholarships through specific organizations. For example, if you are studying abroad in Italy, you may find scholarships through an Italian American society or group. Contact them to see if they offer scholarships or can direct you to an organization that does. You can also look for scholarships by searching on databases like Fastweb.com, Scholarships.com, and by visiting the library.
Consider going for a shorter period.
While an entire year studying abroad could be an amazing experience, it definitely is going to be costly. Instead, consider going for a semester or even for a shorter period, such as a summer, month, or even a few weeks. Keep in mind that every day that you are abroad, is another day that you will be paying for accommodations, food, transportation, and so on.
Don't leave home without your ID.
While you will always want to carry your ID with you while abroad for safety issues, there are other benefits to having a student ID. You may get a discount on museum admissions, train tickets, at restaurants, and other attractions. It never hurts to ask if there is a discount for students. You may even get a cheaper rate if you are traveling around and staying in a hotel or hostel.
Choose a cheaper destination.
If you are more flexible on your location, choose one that is cheaper. When you are determining the cost of each location option, don't forget to include how much it will cost to get there and what the cost of living is. Paying for food and drink is a lot cheaper in Southeast Asia than it is in Europe.
Get a job while you're studying.
Earning an income while you are studying abroad is a good way to keep the costs low. Keep in mind that every country will have a different policy on employment. Depending on your skill set and experience, potentially, you can bartend, waitress, be a nanny, become a tour guide, or work at the campus where you are taking classes.
Start saving in advance.
If the idea of studying abroad is somewhat fresh and you still have some time before you go, your main focus can be saving for your trip. Try to cut your expenses in every possible way. Stop going out to restaurants, cook your meals instead of ordering out, walk or bike instead of spending money on gas, stop buying any new clothes, cut your cable bill and watch TV online, take on a roommate, and whatever else you can do to save. In addition, try to make extra money for your trip. Take on an additional part-time job or a summer job, babysit, walk a neighbor's dog, ask your boss for extra hours, sell some of your unused clothes and items you don't want anymore, tutor a subject you know well, teach a skill you know, or whatever else you can do to earn extra money. With the extra money you have earned and have saved, put this in a completely separate savings account for your trip so you are not tempted to use it.
Take advantage of the college life.
Depending on where you're headed, the college or university you are attending abroad may have a lot to offer you, just like your school back home. They may have free computer labs or internet, a library, free events on campus, or even events with free food.
Choose accommodations with a kitchen.
If you have access to a kitchen, you can significantly cut your food costs by sometimes cooking at home instead of heading out to restaurants. While a significant part of experiencing the culture will be heading out and eating at a local restaurant, you can also celebrate the culture by cooking. Shop at local markets, and purchase fresh, local ingredients.
Bring a friend.
If you travel with a fellow classmate or friend, you can split the cost of rent, electricity, and other household bills such as groceries. If you are traveling through a program offered by your college back home, ask if there are other students going as well or try to meet up with them during any information sessions. Get to know them before you go so you will know if you are compatible, and you think you would have a good experience traveling with them.
Know how to be financially aware while abroad.
While you are studying abroad, there are many ways to save money while traveling internationally. Change your phone plan to international so you don't get slammed with fees, know any credit card fees you might endure or get a card with no foreign transaction fees, eat like the locals instead of tourists, explore alternatives to hotels like hostels, camping, and so on, and find free things to do while you are traveling.
What are some tips for saving money while you're studying abroad? If you got the chance to study abroad, what are some things you learned about money while there? Was it worth the cost?
More Tips to Explore Before Studying Abroad