Tourist attractions may be jam packed with visitors, but these places are attractions because, for one reason or another, they're definitely worth seeing. Whether it is history, tradition, or entertainment, these places have something to offer everyone. These attractions are popular destinations with people heading out of town this summer. You've probably heard the term "tourist trap", which means it can be costly. Between overpriced dining, lodging, admission fees, parking, and souvenirs, it can easily add up pretty fast. One way to combat the over-priced destination is to choose camping opposed to a pricey hotel.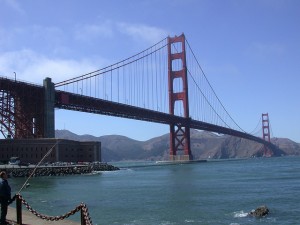 (Photo Credit: Shelley Powers/Flickr)
Places to Camp Near America's Most Popular Tourist Destinations
Camping is the best way to visit these popular tourist attractions across America. Camping is a more affordable option to save extra money. Generally, camping is less expensive than the hotels you'd find around these attractions. Plus, you'll skip other hotel related fees like parking, resort fees, and the more expensive dining options around these areas.
In addition, it's a much needed break from the huge crowds that tend to surround these attractions. It's a unique way to combine an iconic destination with an outdoor, relaxing, simplistic experience. Here are six of America's most popular tourist attractions and the best campground nearby:
Golden Gate Bridge (San Francisco, California): Stay at the Golden Gate National Park
The Golden Gate Bridge is an iconic symbol of San Francisco so it only makes sense that the city's national park is named after the massive, red structure. The Golden Gate National Park is 60 miles around the entire San Francisco Bay Area, and it brings in 17 million visitors annually. The park offers four campgrounds throughout, and they all offer something different than the next. Check out which campground would be best for you and your group. But the Kirby Cove Campground and Picnic Area offers the best views of the Golden Gate, so keep that in mind. You'll also find a nearby beach, barbeque grills, and wildflowers throughout.
Times Square in New York City: Stay at the NYC North KOA
Only 90 minutes away from the hustle and bustle of the city, the NYC North KOA is a good choice to unwind after the bright lights of Times Square. Besides spending money on pricey hotels in Times Square, and pretty much all over NYC, most of the time you will also have to pay for parking if you have a car with you. The campground offers a Big Apple Tour that provides an escort that can show you around the city. If you want a break from the city, there's plenty to do on the campground including free pancake breakfasts, two swimming pools, fire pits, an outdoor cinema screen, fishing pond, hiking trails, and designated areas for volleyball, basketball, shuffleboard, horseshoes, and mini-golf. While there's amazing food in the city, it's also nice to alternate between more affordable options at your campsite.
Las Vegas Strip (Nevada): Stay at the Red Rock Conservation Area
Vegas can easily become a very expensive getaway. But the colorful, glistening lights of the Vegas strip are replaced by a unique landscape of red rock and endless desert just 25 miles west at the Red Rock Conservation Area. All of that energy and noise is replaced by the serene surroundings of the Mojave Desert. Thousands of party goers and tourists are replaced by 200 types of mammals including burros, red tailed hawks, golden eagles, hummingbirds, wild horses, bob cats, and even mountain lions. While it's a pretty far jaunt from camp to the strip, it could be welcome break from souvenirs, pricey meals, tempting shops, and of course, gambling.
National Monument (Washington D.C.): Stay at the Cherry Hill Park
Visiting the Nation's capital is a wonderful way to learn about our country's history, and Cherry Hill Park is a perfect option for camping if you want to skip the expensive hotels. The campground is a peaceful place to unwind after sightseeing with plenty to do such as a pool and game area. Best of all, there is transportation available right at the campground to and from the city which make getting there a breeze and an affordable option. For a true taste of the area, the campground serves Maryland style crab cakes at the Star Café with lump crab meat.
Niagara Falls (New York): Stay at Niagara Falls Campground and Lodging
When visiting Niagara Falls, you'll pay a fee for parking, and you can expect pricey hotel room rates coupled by a lot of overpriced souvenir shops. But just 6 miles away from the massive, flowing waterfalls, Niagara Falls Campground and Lodging is the closest campground to the falls, which will allow you to skip the expensive hotel rooms. Right next door to the campground's office, you'll find information of the daily guided tours to the falls. These tours pick you up right at the campground and drop you off at the end of the day. For this tour, children under 5 are free and under 12 are at a reduced price. You can even take a tour to the Canadian side of the falls if you have proper identification including a valid passport.
Mount Rushmore (South Dakota): Stay at Custer/Mount Rushmore KOA
The Mount Rushmore National Monument depicts four men that greatly influenced the history of our country. You'll enjoy scenic views of the area and plenty of things to do outdoors. When you're visiting the monument, stay at the nearby Custer/Mount Rushmore KOA. Besides Mount Rushmore, the Crazy Horse Memorial and the Jewel Cave National Monument are all within 20 miles from this family-friendly campground.
Which of these tourist attractions have you visited? Did you ever camp in any of these areas? If you've visited any of these attractions, tell us your money saving tips or any other travel tips for checking out these attractions.
More Travel Tips